We travelled to London to the 2019 technology event series of ExCel
We travelled to London to the 2019 technology event series of ExCel
The Exhibition Center London is an approximately 89,000 square meter building complex, where from the 12th to 13th of March five differently themed technology exhibitions were held. Our colleagues attended the two-day event, which offered a great opportunity to explore trends in AI, Blockchain, Cyber ​​Security, IoT, and DevOps and to build beneficial relationships as well.
| | |
| --- | --- |
| A total of 520 experts held 25-minute long presentations at various spots. To be able to make the most out of the event, we selected the most interesting and useful topics in advance. Some of the performances were presentations, but many also held panel discussions. We were pleased that the topic of artificial intelligence appeared in many presentations, yet we met a relatively small number of exhibitors who had active AI developments. | |
We would like to highlight the most important contents of each exhibition:
AI Tech World
Perhaps the most important and interesting part of the event series was solely about artificial intelligence and big data. Presentations included the following among others:
Preferring simplicity in AI development
Depending on the goal, one should always use the simplest possible algorithms and teaching structures. Of course, deep learning models have their own benefits, but they are not always the best option.
Sensitivity of artificial intelligences to data
The input data must always be in balance. Excessive display of a given data category can mislead the trained artificial intelligence.
Importance of using different indicators
The accuracy of an artificial intelligence is not the only measure, and in many cases it is not even the most important one.
Blockchain Tech World
We have heard about a lot of new corporate applications and interesting use-cases in the blockchain department. We have also learned how to use blockchain technologies, for example, in combination with IoT tools or how to utilize them in HR tasks. We would like to use the inspiration gained here in our own developments.
Cloud & Cyber Security Expo
We have already gained a lot of up-to-date information about the security of cloud infrastructures on the 2019 AWS Summit in Berlin, to which we could add even more. We would like to highlight Symantec's talks, which demonstrated the correct handling of cloud services used in the background (often without our knowledge) and the security features of Office365 products.
DevOps Live
In this section, Cloud Native applications and their supporting Cloud Native Environments are the most important topics. This is how we got to know the Oracle Linux Cloud Native Environment, which is a curated set of open source Cloud Native Computing Foundation (CNCF) projects that can be easily deployed and have been tested for interoperability, thus supporting DevOps developments in many ways.
Smart IoT
The developments of Siemens have been the most favoured by us on the IoT part of the event. For example, they have exhibited a holographic development that can simulate and test the manufacturing process of a plane. We also learned that the company wants to be among the top 10 software companies by 2020.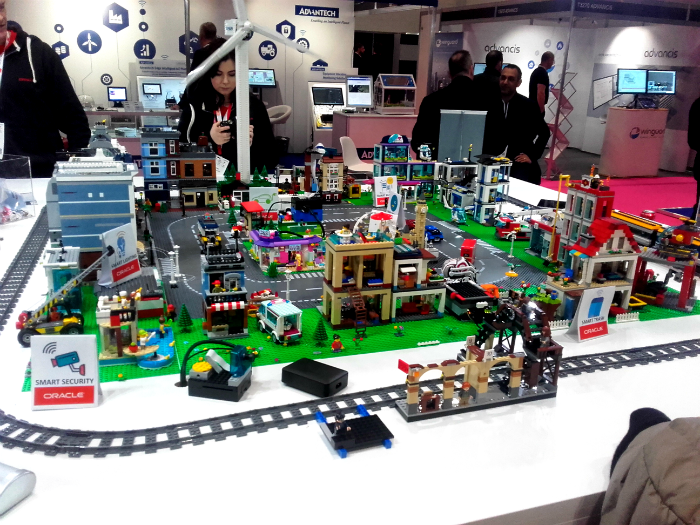 We believe that we have gained a lot of new knowledge, experience and inspiration thanks to the many performances of the two-day event. We would like to recommend the next occasion of the event series to everyone who wants to get up-to-date information on the latest technology trends. One thing is sure: we will be there the next year!
Try our AI-based speech recognition application for free!
Speed ​​up your work with artificial intelligence! With the help of Alrite, you can easily create Hungarian transcriptions and video captions for dictated or previously recorded audio and video materials. The application offers the ability to store files, edit and share transcriptions and captions, and perform advanced search options.