8 criteria for selecting the appropriate customs clearance software
8 criteria for selecting the appropriate customs clearance software
Have you thought about managing all your customs clearance procedures - regardless of the place/location of the company site - centralized through using only one software solution? Meet Clare.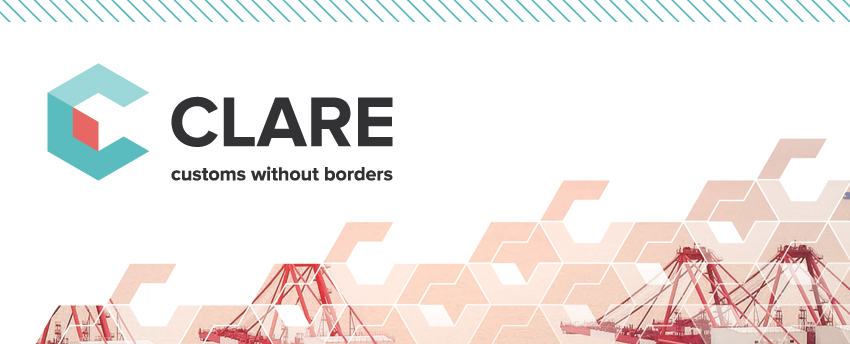 #1 CENTRALIZED CUSTOMS CLEARANCE
Our customs clearance software, Clare simplifies the complexities of customs clearance in the European market. It provides all general procedures valid in EU countries and by supporting centralized customs clearance, it gives you the opportunity to manage all your sites in one system.
You don't have to purchase or subscribe to a software in each of your company site's country for a local, automatized communication with the customs office. Clare manages all of your countries as one global solution.
Clare allows you to centralize and integrate accounting, logistics and distribution for your company sites. This centralization brings savings in administrative and transaction costs and provides a genuine simplification of procedures.
#2 PROVIDES TRANSPARENCY
Clare provides transparent business operations. By managing the customs procedures through one single application, all your activities can be tracked and kept under control. All user activities are automatically logged in the system, so every information is retrievable.
Transparency is guaranteed through unified reports as well. All of your company sites can prepare the same reports in the same structure and the same type of data, thus the efficiency of each site is easily measurable and comparable.
With the new system, you can have full control over the customs clearance process: follow every single step from the beginning to the end. Lost in paperwork? All information is stored and archived within the system.
#3 FLEXIBLE MODULAR SYSTEM - PICK YOUR MODULES
Thanks to the flexible design of our application, you have the opportunity to purchase only those modules that you really need.
Each and every customs clearance procedure is formed in easyto-combine modules. This way your Clare application can be easily customized and fit to your real business needs.
We have predefined 3 solution packages that fit the basic procedures of most companies. Thanks to our 15 years of experience in the customs administration domain, we have a great insight into what is needed when complying with the customs regulation of EU countries, so we were trying to define solution packages that can serve most of the companies' needs. However, we do not like to restrict anyone with boundaries, so if you want, you can select one of the predefined solution packages but you can also come up with a new package and get personalized price for that unique package.
#4 LEGAL COMPLIANCE - UP TO DATE MASTER DATA
The toughest part of customs clearance administration is, that customs clearance legislation always changes. You always have to keep track of changing rates and customs codes, or your declaration may be denied or worse, you can get a pretty big penalty for not providing the right information in the right format. If this wasn't enough, not keeping up with the changes can result in late transports, lost income and other, pretty bad business consequences.
Clare has been developed to overcome the challenge of changing legislation, to comply with the Union Customs Code in all aspects. Thanks to the legal compliance of the software, you can be sure that it is always up-to-date and compatible with the current legislation. Whenever the laws are updated, the software is, too.
You don't have to worry about the always changing customs exchange rates, or codes defined by the customs office (such as tariff code). Thanks to the automatically updated master data included in the subscription services, you can be sure, that you are always using the right codes and exchange rates during administration in Clare. No mistake is possible to be made here.
Boost the accuracy and transparency of your customs clearance processes with CLARE
#5 EASY TO INTEGRATE
We understand that ERP is nothing new to companies so probably everyone has a system where partners, products, processes and such are stored and managed. A lot of information that shouldn't be recorded again for using a new software, nevertheless managed parallel in two different systems in the future.
To avoid such a resource-hungry procedure, Clare has been developed to receive and provide all sorts of data through different integration points.
Régens has gained several years of experience and deep expertise in system integration and as such a company we always focus on the best possible solution for our clients that provides automated processes, with less and less need of human intervention. Clare is prepared to get data through imported files (e.g. excel, csv, txt - the most common file formats are supported) providing - for example - automatically drafted declarations in the system. We have already defined and proven procedures to integrate Clare with the most popular ERP systems in the automotive and supply chain industry (e.g. SAP, Baan, Oracle), but we are not stopping there. If you are ready for having a live connection between your ERP and Clare, we are eager to design and develop a customized interface that provides real-time data exchange between the two systems.
#6 USE IT ANYTIME, ANYWHERE
As an easy-to-use cloud application, Clare needs no installation and can be accessed from nearly any device that has internet connection. You don't need to be present in the country that's customs office you are providing the needed declarations. You may manage customs declaration from the other side of the world and still be successful in the procedure.
With Clare we are prepared for the 21st century's business man, so the main features are available on your mobile phone as well. The Clare mobile application aims to support the most important processes of customs clearance that typically occur during unexpected times and places, when all you have at yourself is your mobile phone. Keep customs clearance in your pocket.
#7 CUSTOMS EXPERTISE - CODED FOR YOUR SUCCESS
We are experiencing - through our clients as well - that it's more and more difficult to find the right experts for customs clearance administration. The companies are running low on human resources and this results in slow, hampering business processes. We have developed Clare in a way, that it should follow built-in regulations, predefined processes, that complete the professional part of the customs administration almost on their own. The know-how is coded in the system and thus, Clare guides the administrators' hands through the whole process of customs clearance. The possibility for human failure is minimized and automation supports the easy and fast completion of administration.
#8 FLEXIBLE PRICING MODELS
The more companies, the merrier different policies are in use, and the merrier different pricing models can be accepted and implemented. Because of this we came up with flexible pricing models from which you can pick whichever best fits your requirements.
Normally we provide Clare as software as a service in the cloud. You may start a monthly or yearly subscription for a price that's based on the number of SAD items you declare. With no user limits. The only thing we care about is that in how many countries you would like to use Clare in. Whichever solution you choose you always have the opportunity to upgrade anytime and select unique, additional services to your purchase (e.g. highlevel customer support, interface/API design and development, individual import procedures).
We focus on easy to understand pricing models with no hidden fees, so you can absolutely make no worries about implementation costs. As software as a service, Clare has been developed to be instantly deployed without any IT assistance.
If you prefer buying over subscribing, we have just the right pricing model for you. Application licenses with built-in implementation is the answer for you. A one-time fee for a lifetime - if you don't go beyond our limitations. It's a challenge, but if you still do, don't worry, reasonable upgrade is available.
Would you rather choose an on premise solution?
It's possible. Contact us via https://clare.regenseurope.com and let's arrange a Skype call to discuss the details so we can prepare you a personalized quote.
Try our AI-based speech recognition application for free!
Speed ​​up your work with artificial intelligence! With the help of Alrite, you can easily create Hungarian transcriptions and video captions for dictated or previously recorded audio and video materials. The application offers the ability to store files, edit and share transcriptions and captions, and perform advanced search options.