How to generate subtitles to YouTube videos using artificial intelligence - How to generate subtitles to YouTube videos using artificial intelligence
How to generate subtitles to YouTube videos using artificial intelligence
Video subtitling is not a new invention, yet changes in video consumption patterns were needed for subtitles to gain their current importance. The creation of captions has so far been possible with lengthy and monotonous work, but artificial intelligence greatly simplifies this process too.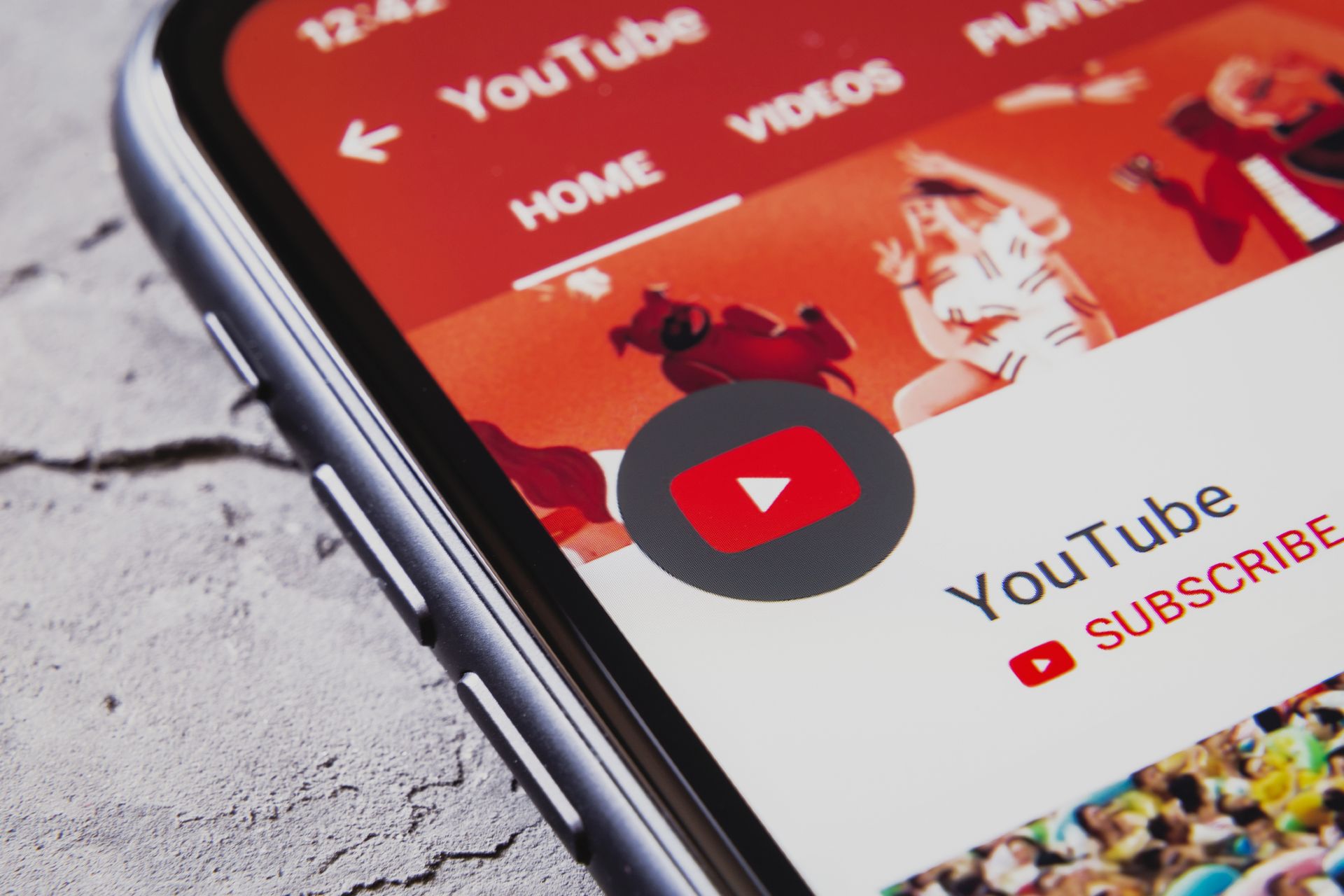 Why should you subtitle YouTube videos?
Video consumption patterns have changed
The majority of YouTube users are under the age of 25, and this is the exact group of people who no longer consume videos like their parents or grandparents. They typically spend several hours a day on various social media platforms, where they share and watch countless videos. Most of the time they just read through the description and keywords of the video they are looking for, or consume videos without sound by reading the caption. It is therefore important to meet the needs of this age group and make captions to videos, as they can provide the majority of views.
Search engine optimization can be significantly improved
Search engine optimization of videos is by no means a negligible reason in favor of subtitles. Google and other search engines find it much easier to categorize to a topic and identify relevant keywords for videos that have been captioned. As a result, subtitled videos can achieve much better SEO rankings, resulting in increased organic reach.
Accessibility purposes
It advocates captioning YouTube and other video contents to make it viewable and understandable for people with hearing impairments. The social utility of the case is shown by the fact that the deaf and hard of hearing make up about 5% of the world's population, with approximately 63,000 people affected in Hungary.
Videos become much easier to understand
In general, there are two main reasons for watching videos: having fun and getting information. Although subtitling is recommended for both types due to the reasons above, subtitles are even more important for educational videos. This type of video content can deliver a lot of valuable information in a short amount of time that is much easier for the user to absorb and understand if a caption accompanies what is being said. This is especially true if the video contains many foreign or unfamiliar technical words. And by summing up the captions, you can make a great note of what is said in the video, which further helps your viewers get information.
How to caption YouTube videos
Creating and timing captions using YouTube's interface
Time: time consuming | Preparation difficulty: medium
YouTube makes it possible to create captions within its own interface. To do this, after logging in, you need to navigate to the video manager in your own channel where you can select which video you want to add subtitles to. After selecting the language of the subtitle, a video player will appear. When you stop the video, the caption is inserted at that time stamp. After typing a caption, you can specify how long the text is displayed. By typing and timing sentence by sentence, a relatively accurate caption can be made, however, with this method, there is the potential for human error, which is especially evident in timing.
Automatic caption generation by YouTube
Time: minimal | Preparation difficulty: easy | Not available in Hungarian
The easiest way to caption YouTube videos is to allow YouTube to auto-caption your videos. The captions created in this way fit the video well and the system recognizes the speech with a relatively low error rate. However, this solution is not available for the content creators in Hungarian language, as the system only supports key foreign languages ​​(English, Dutch, French, German, Italian, Japanese, Korean, Portuguese, Russian and Spanish). That is why it is recommended to use an external speech recognition system that is able to recognize Hungarian speech well and is also capable of creating timed subtitle files.
Create subtitle files with external software solutions
Time: depends on the software chosen | Preparation difficulty: depends on the software chosen
It is also possible to upload a subtitle file within YouTube's interface. This allows you to upload subtitle files created with external software solutions. It is important to use .srt files for uploading, as only these contain the time stamps required for creating timed subtitles.
Automatic subtitle generation for YouTube videos with Alrite AI-based speech recognition system
Time: minimal | Preparation difficulty: easy | Available only in Hungarian
Although YouTube does not allow us to generate automatic captions in Hungarian using artificial intelligence, external solutions are also perfectly suited for this task. A great solution is Régens' speech recognition system, Alrite. Thanks to the application's integration, it offers a special option for subtitling YouTube videos.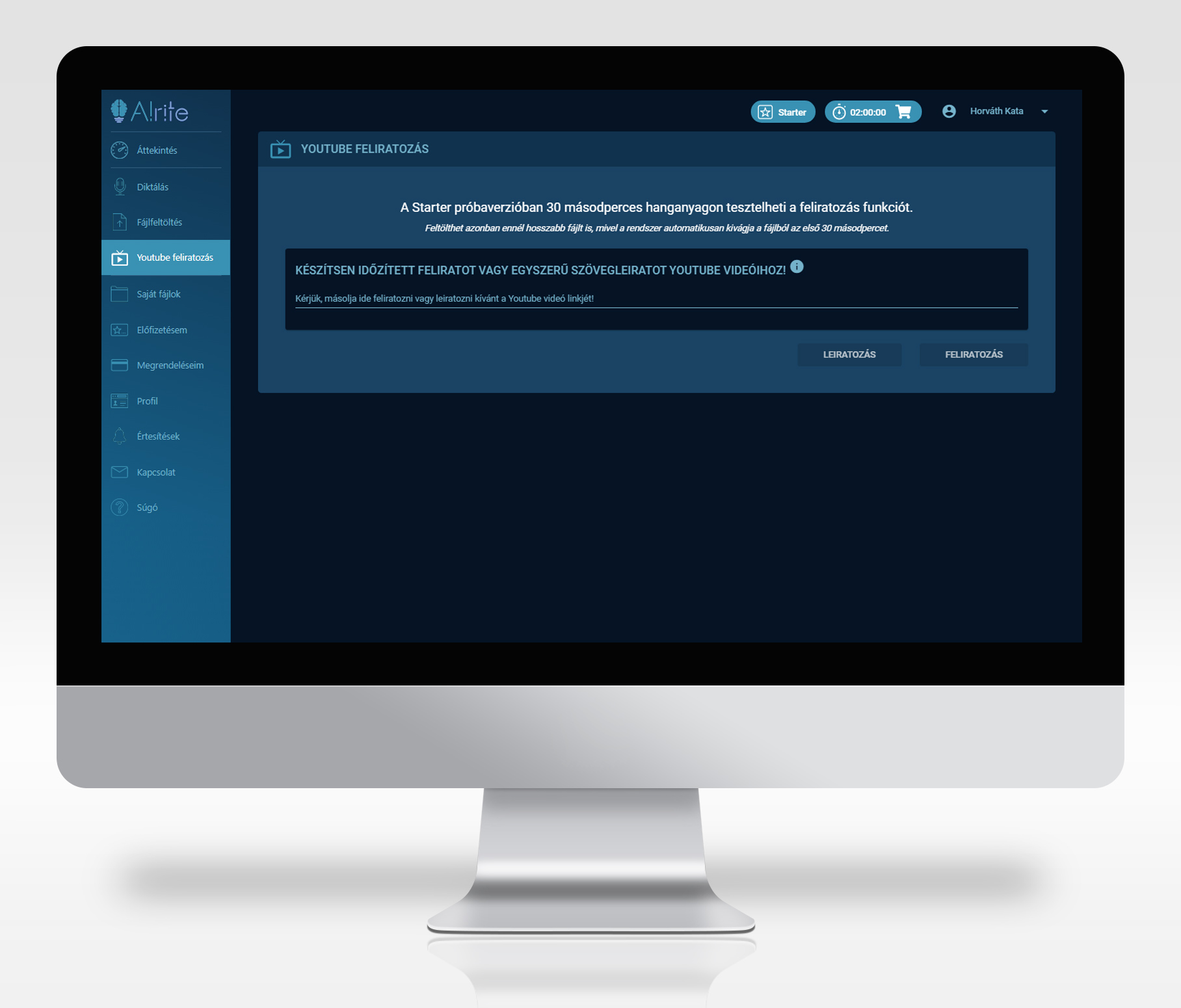 To create a caption, all you have to do is enter the link of the YouTube video you want to subtitle. The caption button can then be used to easily generate an .srt file timed to milliseconds. You can even add a full description of what is said in the entire video, by clicking on the transcription button to extract the .docx version of the transcription. This process takes a few seconds or minutes, depending on the length of the video, and you can download the file format you have chosen. Although the application recognizes Hungarian speech with 90-95% accuracy in general vocabulary, it is worth reviewing and correcting the generated subtitle. Thanks to the precise timing, it is enough to examine only misspellings, there is no more to do with the timing.
By uploading the caption to YouTube's interface, you are already done with captioning the video.
Try Alrite for free! In the trial version, you can test the recording and subtitling of 1 hour of audio, with videos of up to 30 seconds each.
Try our AI-based speech recognition application for free!
Speed ​​up your work with artificial intelligence! With the help of Alrite, you can easily create Hungarian transcriptions and video captions for dictated or previously recorded audio and video materials. The application offers the ability to store files, edit and share transcriptions and captions, and perform advanced search options.