The opportunities offered by IT consultancy
Technology cannot be bypassed, and every business must remain competitive, survive, and thrive. No other industry than technology has grown exponentially over the past decade or two.
So, a company cannot get far if it is still stuck with familiar but outdated technology. To make your business processes more efficient and your teams more productive, you need to keep up with the trends.
However, with the rapid evolution and growth of technology, the adoption and management of business technology is creating new challenges for companies. Most in-house teams will either not be adequately prepared to handle modern technology, or it will be too much for them. Not to mention the challenges related to data protection, which is a direct threat for any business. This is where companies need IT consulting services.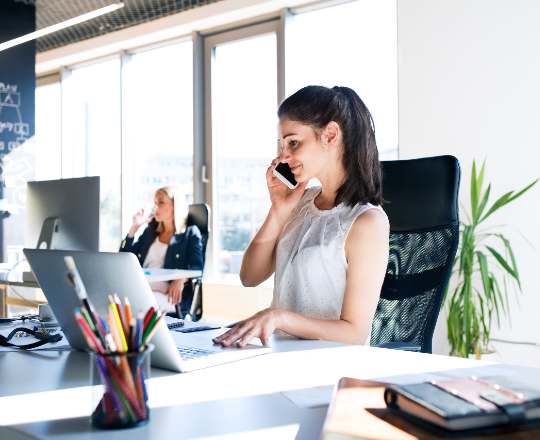 IT consulting is more than just data protection or an IT helpdesk
Our expert IT consulting team has extensive experience in designing and operating on-premises, cloud, and hybrid IT infrastructures. The Régens IT Solutions' IT consulting services provide tailored solutions for each client's unique situation.
We know that every business has its own special needs and preferences, and we offer tailored solutions for each of them..
We provide IT consulting services to answer questions about your IT environment, assess your needs and provide solutions in IaaS, PaaS, and SaaS environments. Your business' data protection and running constantly comes first, therefore we also offer a 24/7 IT helpdesk service, so we can help your organization anytime, instantly.
We can make users' everyday workflows more efficient by applying internationally recognized standards (ITIL).
Under normal circumstances, business consultants are used by businesses to provide tailored advice and guidance on how best to use resources to achieve business goals.
However, sometimes the advice is not tailored to the situation. In these cases, our IT consulting services, and advice are customized to the specific business situation and the business needs of the company. We know that every organization has its own unique needs and preferences, therefore we offer tailored solutions for each of them.
Contact Us
How can Régens IT Solutions'
IT consulting service help your business?
We assess your current IT infrastructure
We provide written recommendations for system improvements
We will carry out system enhancements and design as required
We can help you with networking, hardware and software, security and data protection audits and assessments, cloud services, and enterprise solutions implementation
We help you raise the IT standards of your company
We meet your ever-changing business requirements
We automate business processes
We offer customized solutions
6 reasons why businesses need IT consulting services
1. Expertise
When you decide to work with an IT consulting firm, you're choosing the support of a team that understands the nuances of IT. You'll get training and information on trends and a wealth of experience.
You put your business in the hands of professionals and industry experts who are ready to take your business to the next level. This service is much more than assuring data protection and it being a reliable IT helpdesk; there are way more layers to it.
These experts will help you review your IT structures, identify weaknesses, and provide the best technology solutions for your business. IT consulting can also help you to ensure that your client is compliant with various regulations and standards. Working with an experienced team allows you to focus on other areas to grow your business and improve your revenue.
2. Cost-efficiency
Hiring, promoting, and maintaining an in-house IT team can be costly. Hiring an IT consulting crew can save you a lot of time, effort, and resources in running your IT department. But it also gives you peace of mind so you can focus more on other business functions.
3. More focus on business
Everyone should focus more on their own tasks and on growing the business. The presence of an IT consulting organization means that you and your team don't have to try to fill IT gaps to keep processes running.
You don't have to be concerned with your business' data protection, and you can also rely on the IT helpdesk whenever you need it. Put all this together, and it creates a more innovative team that puts a plan of action in place that will move your business forward.
4. Cyber security
Cyber security and assuring data protection is now a threat to businesses of all sizes. An IT company can help you stay secure through audits, updates, patches, security awareness training, and the latest security developments. If you don't have this level of support in your business, you risk breaches and cyberattacks that can have a devastating impact on your organization.
5. Business continuity
Your company can go out of business at any time for a variety of reasons. If not dealt with quickly, these outages can cause significant losses. Therefore, you must be ready to take appropriate action to get your business back on its feet as soon as possible. Doing this alone can be a task and time consuming.
An IT consultancy can ensure with its IT helpdesk and constant supervision service that your systems and data are backed up and provide 24/7 availability and support to ensure your business can better withstand and survive downtime. Business continuity is ensured in the event of disasters such as cyber-attacks, power outages or natural disasters. This is a critical aspect of customer satisfaction and retention.
6. Personalized solutions
Every business has unique needs that deserve unique solutions, and IT consulting is the best alternative for you if you want customized solutions for your business. IT consultants can create a proof of concept (PoC in software) to make sure that your future custom software will meet your needs and perform as designed. The value of hiring a good consultant is that they will understand your business goals and tailor their recommendations and strategies to help you achieve them.
The bottom line is that IT consulting services can bring a lot of value to businesses of all sizes. If you're not taking advantage of these services, you could be missing out on some serious benefits. Moreover, you remain open to data protection and other forms of threats. From improving efficiency to reducing costs, there are plenty of good reasons to consider working with an IT consultant.