Zurück
Logistics and technology - trends for 2018
Oops... Seite nicht gefunden
Die von Ihnen gesuchte Seite ist nicht verfügbar
Den Standardinhalt zeigen
Zurück zur Startseite
Logistics and technology - trends for 2018
To predict technology and innovation is always a big challenge, since there are some sectors which are developing at the speed of light, but others are slowing down (despite the promising circumstances). Here's 5 tech trends which, in our opinion, will define logistics in 2018.
At Régens we have been working on logistics and freight forwarding solutions for a long time, and we always use the newest and most innovative technologies besides the old and well-tried ones. For example, there is no doubt that the role of data analysis has been on the rise in the past few years, and this trend is also there in logistics.
It's not easy to predict what the future holds in technology. There are trends which are developing much faster than you would expect. But there are also ones that had been promised a great future, but are a bit stuck - but only because something completely new is occupying their place.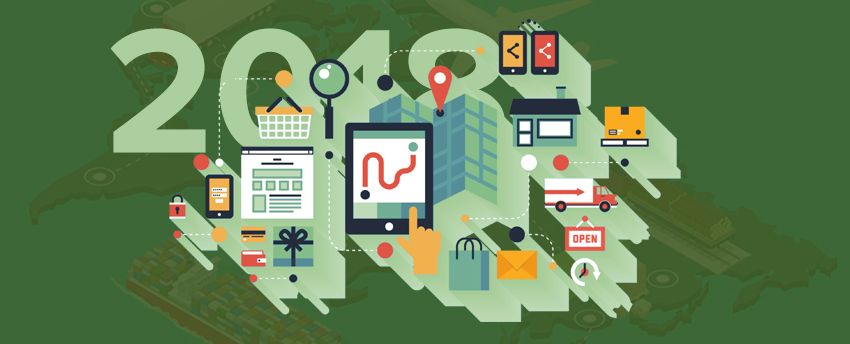 There are a few changes though which are too conspicuous to ignore. According to Régens' experience, these are the 5 trends which will define logistics and freight forwarding in the next years:
Processes will be designed by users' needs
In general, you can tell that the role of clients and customers has grown more and more important. Companies are starting to realise that promotion is not enough for success, but the most important factor is that the product or service are actually adjusted to the users' needs. In logistics, this is no different
What are the needs of consumers?
Again, you cannot ignore the (in)famous Generation Z, who have been brought up in the digital age, in the world of smartphones and instant content. They are used to the fact that every information or even product they need is available with a click or a tap on the screen.
In this matter, Big Data is your best friend. Service providers must use predictive analysis, which does not only help you assess the current state of the service, but based on the data, you can make assumptions on what customer needs might be like in the future. The possible scenarios concerning the end-point of a process will also be easier to predict.
The assumptions made during data analysis will probably encourage logistics companies to try and develop new solutions. According to research, in 2013, 22% of service providers could provide more than 5 shipping options to its customers (which is a significant growth compared to previous years). And this rate is likely to grow even more - we also mentioned in a previous article that online commerce is one of the most popular trends of the decade.
The prototypes of automatic cars are here
Many experiments and developments concerning self-driving cars have been carried out recently. The American government and legislation have already started negotiations on passing the laws about automatic vehicles. However, there is a possibility that legislation will take just as long to make decisions of such cars as the development process itself. Think about it: such legislation must be concerned with all aspects: it has to regulate the number of cars, the technology that can be and should be used; ald also, it has to concern the rights and obligations of car manufacturers as well as other stakeholders in the process. Before the cars can actually be released onto the streets, a lot of engineering and testing must take place.
According to Business Intelligence, even if there are some laws introduced by 2018, using automatic vehicles in logistics is still further ahead.
Optimised routes - faster and more safer shipping
We have already talked about the relationship between Big Data and logistics. For example we have mentioned that the drivers of UPS cannot turn left - because when analysing the data, they found out that they can a significant amount of kilometers and thus, fuel and maintenance costs, too.
This means that the solutions that lie within Data analysis and Machine Learning are useful to not only the customers, but can also influence the process of shipping. To make that happen, you can use the data from the past as well as real time statistics and analyses (e.g. weather information, traffic and fuel costs). Thanks to this, you can rely on Artificial Intelligence to do the route planning. So it's not only the benefit of the customers (who want a quick and smooth shipping process), but the logistics company can carry out their tasks in a cost-effective, fast and automated way.
The rise of warehouse robotics
Automation is not a new concept when it comes to warehouses. Régens also has a number of solutions concerning warehouse and IT systems, with the help of which you can make processes automatic, and the management of a bigger warehouse is easier to carry out. However, most companies have no other use of IT in warehouse management - however, you could use the possibilities offered by innovation in this area as well.
We hope that in the future, the trend will change, since more and more multinational companies are using robotics in warehouse management. You can achieve this with the (already mentioned) automatic vehicles and forklifts, which are already in use at bigger companies. Full automation, however, can only be achieved if the equipment found in the warehouse can actually identify and choose the appropriate goods, which then will be shipped to the recipient.
Amazon is unstoppable
Last but not least, you shouldn't forget about the expansion of Amazon, one of the biggest companies in the USA. Logistics service providers must recognise that Amazon has been using forward-looking and innovative solutions in many ways - just think of their experiments with drone deliveries.
What does this mean to service providers? Well, they have to be up-to-date about the new solutions of the company - it's them who have set the pace now. One of their most user-friendly solution is for example a device, which helps you order an often-used product (e.g. fabric softener or detergent) by only pushing a button. So those providers who apply the one-size-fits-all method and have fewer shipping options will get a smaller and smaller market share.
2018 could be the year of logistics from many aspects - so it is worth it to look out for new trends and innovations. Technology is already there - what you need is to know what your customers' needs are, and with a good development team, you can be in the frontline easily.
Source: Enterpreneur, Logistics Bureau, Cerasis