Zurück
Chatbots and customer service: what changes lie ahead?
Oops... Seite nicht gefunden
Die von Ihnen gesuchte Seite ist nicht verfügbar
Den Standardinhalt zeigen
Zurück zur Startseite
Chatbots and customer service: what changes lie ahead?
We might not even need call centers in 10 years - thanks to chatbots. How does that work?
In our previous article, we have already listed a few pieces of advice as to what you have to pay attention to if you want to use a chatbot at your company. In today's blog post, we will give you the answer to the question: how can a chatbot revolutionise an industry that is nowadays almost exclusively built on manpower - customer service?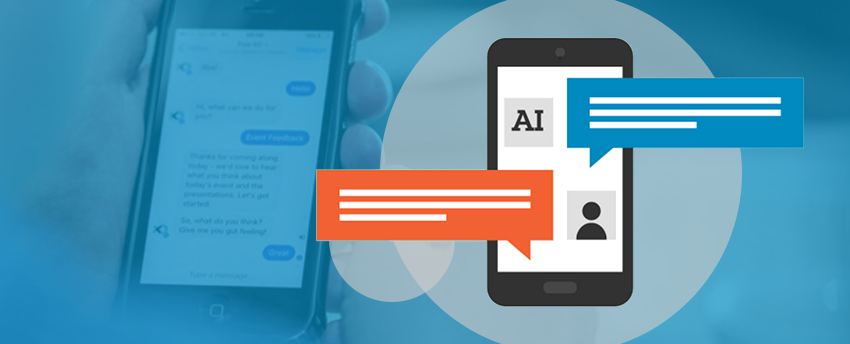 Technological background - why chatbots?
A chatbot is actually an artificial intelligence which you can talk to, similarly to a human being. The most popular types of chatbots today use written communications - they are available within different messenger applications, or even in simple text messages. However, as technology develops, there will be more and more chatbots that use a voice recognition software, so we will be able to talk to them as well (Alexa, the AI of Amazon Echo, which we have already presented on the blog, is such a type as well).
The trend has appeared a few years ago, and it has been a success story ever since. Research shows that there are a few reasons for the popularity of chatbots:
The needs of today's newest users (meaning the Y and the Z generation) have been changing in the past few years: in today's instant world, they crave everything that's instant. Youngsters do not want to speak to a customer service representative on the phone - they want to have a self-service experience, through which they can get the answer or solution to their problem faster. A survey also compared the expectations of users from two years ago, and those from today. It showed that two years ago, a normal user was ready to wait for one day until customer service replies - by nowadays, this rate has decreased to one hour.
Besides users, it is worth it to take a look at developers' point of view as well: most chat and project management applications available today (including Facebook Messenger, WhatsApp, Slack, and more) make their API available, so it is possible to develop a chatbot into them. For customer services it is much more convenient than developing a stand-alone application. This means that by developing a chatbot, you cannot only provide a better customer experience, but you are also doing good for your business.
Why is a chatbot good to your business?
It could be a great advantage against your competitors with a mobile app if you don't make your customers download a whole customer service application. For them all it takes is just opening their favourite chat application (which is probably on their phone anyway), and they can get an answer to their question immediately.
The other big advantage of introducing a chatbot instead of a call center is that a chatbot is also a great way of getting and storing data from our clients. So for example a company that has already been used a written format to communicate with clients has probably more data already than those who operate a phone-based customer service. Earlier questions and requests towards the customer service team may be processed, analysed and grouped together, so you can provide information for the AI which is much easier and quicker to process.
As we have already mentioned in the previous chatbot article, by paying attention to your customers one by one, you can significantly improve user experience, and thus, user satisfaction.
What tasks may be fulfilled by a chatbot customer service?
Probably the first thought that pops into everyone's minds is that finally you don't have to have a call center in order to process all the questions and requests of your clients. However, there is much more to a chatbot customer service than just that. Let's see what roles it can occupy in the life of a company.
Handling a big amount of incoming messages
Nowadays this is (and it will possibly remain) the most important task of a chatbot. Processes that took hours or even days on the phone can be undertaken within minutes with the help of an automated artificial intelligence. If you have the right amount of data available, you can group and generalise customers' feedback, to which the artificial intelligence can react faster and faster. And this can create a user experience that will rise you above your competitors.
Of course, from an entrepreneur point of view, it is also important that you don't need as many employees who will answer the incoming calls, but you can put your human and financial resources elsewhere. For example, you can develop a chatbot which will allow you to provide a 24/7, reliable customer service for your clients.
Instead of a blog - personalised content to every client
Nowadays online marketers are all aware of the fact that it is not actually competitors they have to compete against, but everyone who is present on Facebook or other social media sites (this means the friends of potential customers, cute videos, and all the interesting articles shared there). This means that the most valuable thing you can get from your clients is their attention. And this attention is not easy to get if you only use the "traditional" platforms.
With a chatbot, however, you can provide personalised content to users based on their personal preferences. With the help of today's popular reaction buttons, likes and emojis you can also find out how a given user reacts to different content. This way, you can be sure that you will be able to get their attention, and your messages won't disappear in the sea of Facebook posts.
Online payment
Online shopping is a really exciting area - online commerce is blooming, be it shopping for clother or even groceries.
Just imagine how simple it would be: the customer tells the bot what they need, whether they have questions concerning the given product; and if everything seems right, they can just provide their data, and the chosen product is on its way to them. What's more, we can also imagine that the client needs to provide their data only once, and then the chatbot would just ask "Shall we send it to the usual address?"
The end of customer service on the phone?
Because of the examples and opportunities above, it seems that it is actually worth it to invest in a chatbot, because they can replace phone-based costumer service in the near future. Many people don't have complete faith in them yet, claiming that this way, user experience gets out of hand. However, with careful planning and paying attention, you can provide a similarly good (or even better) service to your clients.
Source: Business Insider, Accenture, Forbes