Zurück
5+1 benefits of outsourcing
Oops... Seite nicht gefunden
Die von Ihnen gesuchte Seite ist nicht verfügbar
Den Standardinhalt zeigen
Zurück zur Startseite
5+1 benefits of outsourcing
"Do what you do best and outsource the rest." said Peter Drucker, the famous Austrian-born American management consultant, educator, and author, whose writings contributed to the philosophical and practical foundations of the modern business corporation. And he was right.
Outsourcing comes from the word 'outside resourcing'. It means that a company that has all the know-how, all the experience and talent to provide a specific service decides to rather find another party to get the job done. But why would a company transfer portions of work to outside suppliers rather than completing it internally? As an answer, here are 5+1 reasons to make outsourcing a part of your strategy.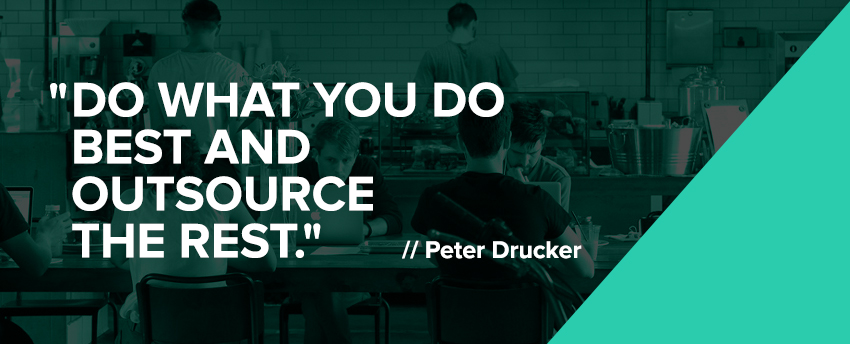 1. More profitable software and company
Working with internal sources is not always rewarding. Maintaining a team of experts involves many hidden costs that can significantly increase the cost of producing a particular service or product. These hidden expenditures are often difficult to measure and can thus be less calculated on a single bid, or be incorporated into remuneration. By outsourcing, on the other hand, the hidden costs are borne by another party. You only have to pay for the remuneration they ask for, so the expenditures and earnings can be much more accurately estimated. No wonder that 44% of companies with outsourcing opportunities start outsourcing for savings. Having a budget that's easy to track also includes the possibility of a more profitable business.
2. Fast track to innovation and competitive advantage
By entrusting certain activities to other companies, we have the choice of choosing partners who are in the forefront of innovation. Their knowledge is utilized as our own, which means that our products and services can growth into great innovations in a short period of time. There is no need for internal trainings, hiring new professionals or investing a big amount of money into research to achieve something really new and marketable. We just have to choose the right outsourcing partner. Outsourcing spurs innovation and fuels top-line growth, and there's no doubt that this is a competitive advantage for your company. When the developed software is successful and profitable your company's revenue may reach unprecedented heights.
3. Easier adapting to change
Nowadays market and changing world result that people need everything almost instantly. Respect for every company that can upkeep a full development team for sudden changing needs, a team that eagerly waits for someone to wave the racing flag and can be immediately deployed in an urgent project. By outsourcing, however, the company's HR frameworks can be flexibly transformed, it allows companies to ramp-up quickly without having to search for staff or find the budget for high salaries. Unlike having your own staff of full-time employees, by outsourcing your maintenance cost are only limited to the time of actual projects, which makes it easy to handle the optimum ratio of expense and coverage.
4. More time to focus on what's really important
28% of outsourcing companies use outsourcing to improve business strategy and customer focus. These two advance the company the most and make sure that you can fulfill successful orders in the long run. Based on a joint study by McKinsey & Company and the University of Oxford, 17% of IT efforts are so ill-considered and useless that they threaten the very existence of the company. By outsourcing the day-to-day routine development tasks, however, your own team of experts can focus on what's truly important, the big picture of profitability and forward-looking business decisions, securing the company's future.
5. A good choice for small-sized companies
Hiring professionals has always had its price. In the IT world especially, this trend is very much present. An IT specialist usually comes with a high salary, which means that smaller businesses simply may not be able to afford full-time job developers. Outsourcing could be a great solution to them, as there is no need to maintain a team of professionals. It's enough to find an outsourcing partner that provides these professionals for a well-defined, well-estimated remuneration, and for an exact period of time that is funded by your actual project. No extra costs, just pure exploitation.
+1 It works
89% of companies are satisfied with their outsourcing contracts, as service providers continue to excellently perform every outsourced task. Nowadays outsourcing is quite a common service across the globe, especially in the area of information technology. There are many best practices, state of the art solutions in the market and you may choose from several highly experienced service providers, if you are willing to try outsourcing. And why wouldn't you? It is clear that outsourcing gives you great opportunities in the market, by accessing new expertise and knowledge, and generating costs that are much easier to track.
Outsourcing for Régens
If any of the above benefits have convinced you to try outsourcing, feel free to contact our consultants who will gladly inform you about the available developer resources of Régens. Our highly-educated IT experts may be at your disposal in a few clicks away.
Source: Misgl, Statista, Accelarence, Statistic Brain